Among Christ's titles is "Alpha and Omega," signifying the first and last letters in the Greek alphabet. His influence can be felt from one end of eternity to the other, as well as all along the way. Every aspect of Mormonism focuses on Him; we revere Him as our God, our Creator, our Brother, and our King.

"In the Beginning…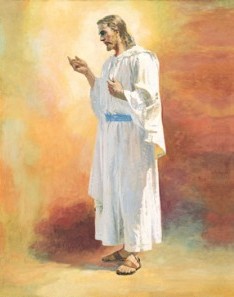 …was the Word, and the Word was with God, and the Word was God. The same was in the beginning with God. All things were made by him; and without him was not any thing made that was made." (John 1:1-3)
Jesus, like all of us, existed before birth. He was an important figure in our premortal family as the birthright, first-begotten Son of the Father, and our eldest and wisest brother. As our leader, He championed the causes of justice, mercy and free will. He was appointed to be our Savior. We had faith in Him. We followed Him willingly and loved Him.
Under the Father's direction, Jesus created the heavens and the earth. He made them beautiful and fruitful. But it wasn't just an art project; earth was to be a testing ground for God's children. Jesus said, "We will prove them herewith to see if they will do all things whatsoever the Lord their God shall command them;" (Abraham 3:25)
And command them, He did. Jesus is identified in the Old Testament as Jehovah, the great I Am. He told Noah to build an ark; He spoke to Moses face to face; it was His presence that rested upon the tabernacle of Israel within a cloud by day and a pillar of fire by night. Over the centuries, He spoke to Samuel, Elijah, Isaiah, Jeremiah, Lehi, Nephi, and many other noble prophets of Israel.
Their messages (which were always His message) were invariably teachings of repentance, obedience, and foretelling of the coming Messiah, who would one day deliver them.

"And the Word was made flesh…
…and dwelt among us, (and we beheld his glory, the glory as of the only begotten of the Father,) full of grace and truth. He came unto his own, and his own received him not." (John 1:14, 11)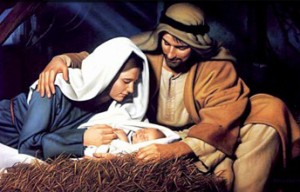 Mary, a virgin maiden from Nazareth became miraculously pregnant: an angel appeared to her and said, "Behold, thou shalt conceive in thy womb, and bring forth a son, and shalt call his name JESUS." (Luke 1:31) When He was born in Bethlehem, He became the only begotten Son of God in the flesh. From His mother, he inherited mortality; from His Father, he received power over death.
At the age of thirty, He began His ministry. Jesus was a profound teacher and a miracle worker. Although He was popular among common folks, He upset the status quo of the reigning religious leaders, and they opted to eliminate Him. They submitted Him to the Roman governor, Pontius Pilate to be executed.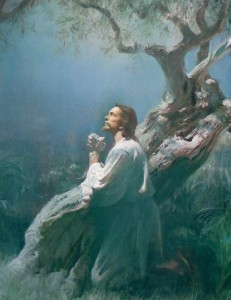 He knew His execution was imminent, but something weightier was on His mind: the souls of all people. He had been chosen by the Father to be the sacrificial lamb — to atone for the sins of mankind. He prayed long and hard in the garden of Gethsemane that fateful night. At first He hesitated, pleading for some other way, "Father, if thou be willing, remove this cup from me: nevertheless not my will, but thine be done." (Luke 22:42)
The consequences of sin are death and suffering. Jesus suffered in Gethsemane, then died by crucifixion on Calvary the following day.
But the sins were not His; they were ours.
Why did He do it? Jesus later spoke these words to the prophet Joseph Smith:
"For behold, I, God have suffered these things for all, that they might not suffer if they would repent; which suffering caused myself, even God, the greatest of all, to tremble because of pain, and to bleed at every pore, and to suffer both body and spirit–Nevertheless, glory be to the Father, and I partook and finished my preparations unto the children of men." (Doctrine & Covenants 19:16,18-19).
"He is not here, but is risen"
(Luke 23:6).
On the third day after His death, before He was even fully interred in his tomb, Jesus arose. He showed His fully-perfected physical body to Mary and to His disciples; they felt the nail prints in his hands and feet and knew it was the Lord. His ministry continued another forty days, long enough to more fully establish His Church with the apostles. Then "he was taken up; and a cloud received him out of their sight." (Acts 1:9).
Why didn't He stick around? For one thing, He had another pressing matter. He had earlier told His apostles, "Other sheep I have, which are not of this fold: them also I must bring, and they shall hear my voice; and there shall be one fold, and one shepherd." (John 10:16).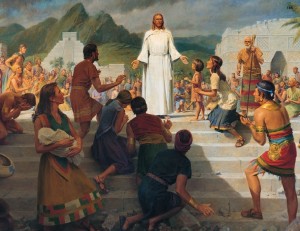 We have record of at least one group of His "other sheep" in the Book of Mormon. He was met by the Nephites and Lamanites with celebration and enthusiasm (3 Nephi 11). We are certain He visited other groups, but we have not yet received records of these visits.
Jesus has remained alive in an immortal and perfect physical body ever since. He showed himself to Stephen, Saul, John, Mormon, Moroni, and many others, including the pious fourteen-year-old Joseph Smith. He has promised, "Blessed are the pure in heart: for they shall see God." (Matthew 5:8).
As in ancient times, the prophets dispense the Savior's message to the world, including a witness "that He lives! For we saw him, even on the right hand of God;" (Doctrine & Covenants 76:22-23).

"The Lord himself shall descend…
…from heaven with a shout, with the voice of the archangel, and with the trump of God: and the dead in Christ shall rise first" (1 Thessalonians 4:16).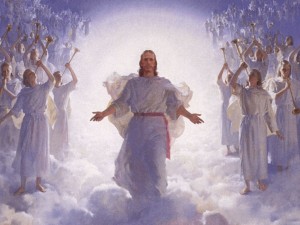 We still await the Savior's triumphant second coming. He will reveal himself to everyone altogether then, and the graves of the righteous will open for their turn at resurrection.
We will all recognize Him as King (some with dismay or anxiety), "For it is written, As I live, saith the Lord, every knee shall bow to me, and every tongue shall confess to God. So then every one of us shall give account of himself to God" (Romans 14:11-12). He will reign personally for a thousand years; then, the wicked will finally be resurrected, and each of us who has lived in this world will receive our final judgment from Jesus the Christ.
And what better judge could we ask for? Jesus knows us best, having been among us from the very beginning. He created the world and even walked among us in mortality. He felt our pains and afflictions and temptations and death itself; all so He would know how to relieve us (see Alma 7:11-12). He is our righteous leader and king. We can have faith in Him. We can love Him with all our hearts.