Q. What do Mormons do for Christmas?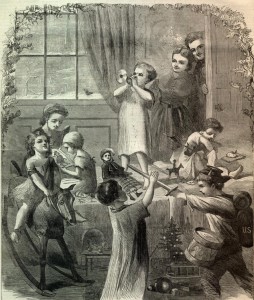 From what I have seen and experienced, Mormons celebrate Christmas in just about the same way that the rest of the Christmas-celebrating-world does.  We (in the U.S.) have a Christmas tree, stockings, egg nog (not alcoholic), family gatherings, presents, a visit from Santa, caroling, parties, and other unique family traditions.
One thing that Mormons try to do, which might set us apart from the worldly Christmas around us, is to focus on Christ as the center of the celebration.  Many families reenact the Nativity at some point on Christmas Eve or Christmas; and we try to emphasize gratitude for our blessings rather than getting more loot.
The First Presidency of the Church (our modern prophet and his counselors) produces a Christmas fireside each year, which is very typical of our attitude toward Christmas.  Watch the whole thing by clicking on this link.