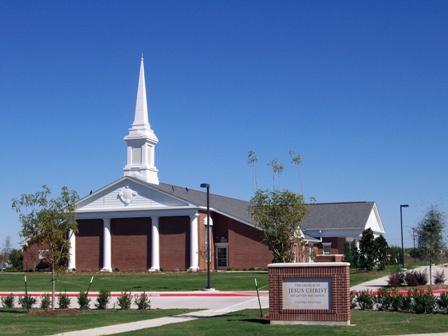 So, who'd like to know what a typical LDS church meeting is like?  Anyone is welcome to attend their local LDS congregation and find out for themselves, but I'm sure there are plenty of people who would like to know what to expect before they enter the building.
First of all, what should you wear? Well, dress for success, my friends. While you'd be welcome regardless of your attire, you'd stick out if you showed up in, for example, jeans and a t-shirt. Mormons believe that wearing "Sunday best" shows respect to the Lord. For women, this means either a dress or a skirt and blouse. For men, a suit or nice slacks, white shirt and a tie is appropriate. I've personally found that the clothes I wear affect my behavior. Being a little more dressed up serves as a good reminder of a more reverent and respectful attitude.  However, if your best clothes happen to be jeans and a T-shirt, don't hesitate to come anyway: sometimes a financial situation may be keeping someone from having a semi-formal wardrobe. Remember "the lord looketh on the heart".
Now that you look respectable, what else should you know? Be prepared: LDS church meetings are three hours long. Three awesome hours of uplifting gospel instruction, but three hours nonetheless. (If you can only attend for one of those hours, that's fine – come anyway!) So, what exactly happens during those three hours?
Well, each hour is a separate meeting and sometimes the schedule is arranged differently but usually the first of the three meetings is the Sacrament meeting. The congregation gathers in the chapel, preferably a bit early so you can have some quiet time and enjoy the prelude music. Now, let me introduce some basic terminology. The congregation is known as a "ward". The men who lead the ward consist of the bishop and his two counselors, also known as the "bishopric". When church commences, the conducting member of the bishopric begins the meeting by welcoming everyone and announcing what's coming up next: who will give the opening prayer, what hymn we'll sing, and so on. (This information can also be found in the program that is usually handed out at the door to the chapel on your way in.) We'll have ward business, which includes calling and releasing various members of the congregation.
Let me explain something here that I know has been mentioned in other articles. The LDS church does not have a paid clergy. The Bishop, his counselors, the brother or sister passing out the program, the organist, the conductor: everyone is "called" to a position and chooses to volunteer his or her time fulfilling that calling to support and contribute to the benefit of the entire ward (1 Corinthians 12:15-30). Everyone in the ward gets the opportunity to sustain the brothers and sisters to these callings and thank those who are released from a given position.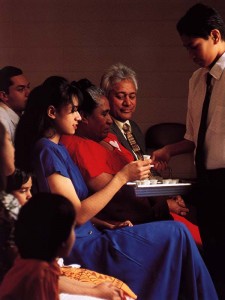 After the ward business is concluded, we'll sing a sacrament hymn and have the blessing and passing of the sacrament. You shouldn't be alarmed to find that we use water instead of wine, since Mormons don't drink wine.  The bread and water are symbolic of Jesus Christ's flesh and blood, and it makes no difference what medium is used for that symbolism. (see D&C 27:2)
After the sacrament, we'll get to hear from a few members of the congregation who have been asked by the bishopric to speak on a given topic. After listening to their addresses, we'll sing another hymn and have a concluding prayer. Then we'll separate for the next hours' meetings.
For most of the adults in the ward this second hour will be Sunday School. The lessons are taught from the book of scripture we're studying for the year, which rotates between the Old Testament, New Testament, Book of Mormon and the Doctrine & Covenants. You can often find alternative Sunday School meetings which address more specialized topics, such as family history, marriage & family, temple preparation, etc.  One class, Gospel Essentials, is for new members and investigators (i.e. people who are investigating the Church — perhaps someone like you).  It covers all the basic principles of the gospel.
For the third hour the adults separate into the Priesthood (men) and Relief Society (women) meetings, where we study the teachings of the various presidents of our church.  This year we are studying the teachings of Joseph Smith.
Children are usually plentiful in LDS meetings, so don't be surprised to see a number of babies, toddlers, and assorted aged young 'uns in Sacrament meeting. For the second and third hour, children and youth (18 months to 18 years of age) attend their own age appropriate classes.
So you see, we've got all the bases covered here. There's something for everyone. I'd be willing to bet you'll find many smiling, welcoming faces as well, so don't be intimidated. Now go find out for yourself what the church meetings are like. The Spirit you'll feel when you attend is special. I could try to describe it, but it's one of those things that's really best experienced first-hand.
To find an LDS meetinghouse in your area click here.