Q. How do Mormons (who are very intelligent, well educated as a group) reconcile themselves to the fact that there are no historical evidences of the peoples in the Book of Mormon? -Sherry
Sherry, thank you for considering us intelligent! Your comments are welcome here any time!
Modern prophets have always encouraged us to "get all of the education that you can." The Perpetual Education Fund is in its seventh year, providing school loans to men and women in poor areas across the globe, and there are many Mormons in every professional career path from doctors, engineers, and scientists to CEOs, attorneys, and public servants. We do believe in the scientific method and most of us are very capable of holding our own in logical discussions.
And yet we still believe the Book of Mormon is the translated word of God.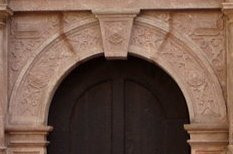 You are very wise to bring this up, Sherry, because the Book of Mormon is the proverbial keystone in the archway of our religion. If it is a true document with miraculous origins, then Joseph Smith was a prophet and this Church represents the best thing to happen to humanity in thousands of years. If the book was merely dreamed up by Smith, then he was a fraud and got away with one of the biggest, most successful hoaxes ever imagined. The whole Church would crumble. It becomes even more important when we consider that this book
is
verifiable.
I'm also glad you asked because there actually is evidence. A large pile of it. It isn't publicized by the Church because archeology cannot change hearts and bring people to repent. If your testimony of the Church is based on something as tentative and changing as science, your faith in Christ will waver with every new discovery. In the late 1800's some of the Book of Mormon's references to animals and metals were laughably inconsistent with then-current scientific knowledge. In recent decades, more scientific discoveries have actually turned each of these accusations into stronger proof that the book could not have been written by Joseph Smith.
I don't want to get into it all here, but I'll list a few examples and let you look at Jeff Lindsay's website for a larger, more detailed collection of Book of Mormon evidence.
The early chapters in the Book of Mormon map out a route from Jerusalem, along the Red Sea to a city called Nahom, ending in a lush coastal location where a boat was built to sail to America. The city NHM and the paradise valley are still there today, and exist in exactly the locations on the Arabian peninsula the Book of Mormon describes. Joseph Smith had no access to such information.
Many leading researchers place Book of Mormon lands in Mesoamerica, just below the Yucatan peninsula. Evidence supporting this claim includes: temples, large cities, volcanic activity at around 33 AD, fortifications for war, multiple city markets, fighting wars in winter months, and many more.
The use of cement buildings, steel swords, buried stone boxes, and metal plates all used to seem anachronistic in the ancient world, but recent findings have turned up evidence of all these elements.
An ancient Middle-Eastern poetic structure called

chiasmus

was discovered in the Book of Mormon. The concept of chiasmus was virtually unknown in most scholarly circles in Joseph Smith's time, and if he did somehow know to include these poems, he didn't seem to realize what powerful evidence they were, failing to make any mention of them to his detractors as evidence of authenticity. No one in the Church knew about them until 1967.
Jacob 5 gives an amazingly detailed (and accurate) account of proper olive tree maintenance (as an allegory for the gathering of Israel). Joseph Smith had no experience with ancient olive tree cultivation, nor were there available any sources on the topic.
As I mentioned earlier, all of this is interesting and good, but will not likely cause a person to devote his or her life to discipleship with Jesus Christ, which is the book's true goal. Science is not the only path to knowledge. It is just the most objective path, and that is why it is valuable. Still, there are some things that can only be understood through personal experience (see D&C 79:116-117). We can learn many important things through the scientific method, but God does not wait for science to catch up on the most vital truths. Millions of non-Mormons have been learning this book is true for 178 years, even when the scientific evidence of the day seemed to be against them. The learning method is the same today as it was then (see Moroni 10:3-5):
Read the book
Remember how merciful God has been to you
Ponder the message in your heart and mind
Ask God if it is true
Listen for the answer through the Holy Ghost
You can know, too. And you can stand with us as a member of this family of intelligent, faith-filled people.