Q. Hello, my name is Becky and I've become infatuated with a Mormon boy. He's 22, and I'm 18. I am not Mormon, but have seriously been thinking about becoming Mormon. Not only because of him, but because I feel it would be good for me. My mother on the other hand, thinks I'm being stupid and does not support me in any way. I believe it's my choice, and I would like to marry him. If I don't become Mormon, I shall be Christian. Can Mormons marry Christians? Would it be bad if they aren't sealed?
Hi Becky! It sounds like you have at least two questions here:
1) Can I/Should I be a Mormon?
2) What would a mixed-religious marriage commitment be like if I remained a non-Mormon Christian?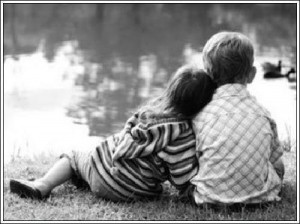 To the first question, a hearty YES!
Of course, if you embark on such a momentous decision you should do it for the right reasons, and having a crush on a guy, while thrilling, just won't have the kind of lasting draw to keep you in communion with Christ in the restored church. Talk to your local missionaries and they will help you understand and obtain the deeper motivations that will bring you everlasting life and joy. Introduce them to your mother, too. They can help alleviate her fears.
And my answer to the second question is: CAUTION!
Mixed-faith marriages are tough on any family. They are stressful, and only get more stressful as the hormones wear off. Mormons are particularly hard-hit because marriage itself is a sacred ordinance and covenant with God that must be entered into by both husband and wife. Is it bad not to be sealed? Well, it's not "going-to-hell" bad, but it's settling for less. Less than what Our Father has prepared us to become.
I've written back to another person about this topic before. Please read it next. It's called, "I'm in Love with a Mormon, What Now?"