I'd like to share a personal experience with you all today. I was recently doing a Family Home Evening Lesson on prayer. For those who aren't already familiar, let me explain the concept. Family Home Evening is traditionally held Monday nights, every week. It is a time in which families sing hymns, read scriptures, have a lesson, an activity, and of course, pray together. It is a beautiful melding of family bonding time and teaching important gospel truths, sharing testimonies with the people who matter most in your life. I love Family Home Evenings.
Anyway, so in this particular Family Home Evening lesson we read the scripture Alma 33:11 which describes praying in faith through one's afflictions. I asked my children if they knew what the word "affliction" meant and explained to them that it is something difficult: when something hard happens in life and we maybe don't know what to do or how to get through that experience and I told them it is important to pray to make it through these times of difficulty. My four year old son has been playing a video game with my husband and when I talked about afflictions, he immediately drew a corollary to this game. They'd stopped playing last time at a point in which the characters were stuck on one side of a large crack in the ground and my son commented that he just didn't know what they were going to do about it or how they would get their guys around or over this big hole in the earth. When he said the closing prayer that night, he asked Heavenly Father to help them to find a way to get around that big crack in the ground in their game.
Maybe it's one of those "you had to be there moments", but this touched my heart and I know my children and I were both taught that night by the Holy Ghost. My eyes got a little misty as the scripture Mosaiah 3:19 came to my mind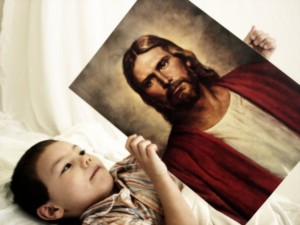 and I marveled at the simplicity and depth of my son's faith. I know that he believes and accepts what I'm teaching him. I know that he loves his Redeemer, Jesus Christ. My son was taking my lesson to heart and applying it to his sphere of understanding. Would that we all prayed with such faith! Would that we never doubted that our omnipotent Father in Heaven cares about us and whatever we may be experiencing. I know this to be true.  Jesus is the Christ, he suffered for your sins, died for you and was resurrected again because of that great love that our Father has for each and every one of us. Just as my son prayed for help to get through what he truly saw as a difficulty in his world, we can pray for any difficulty in our world and I know our prayers will be answered.