Q. How do you explain Revelation 22:18-29 (KJV) in conjunction with the addition of the Book of Mormon (and others) to Holy Scripture?
I can handle verses 18-21, but 22-29 are beyond me. I'd love to hear what you think of those.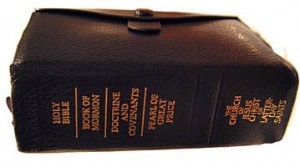 Chapter 22 of Revelation is the final chapter of the New Testament, verses 18-29 (KJV) are shown below:
18 For I testify unto every man that heareth the words of the prophecy of this book, If any man shall add unto these things, God shall add unto him the plagues that are written in this book:

19 And if any man shall take away from the words of the book of this prophecy, God shall take away his part out of the book of life, and out of the holy city, and from the things which are written in this book.
The implication is that since these verses close out the Bible as we know it today, God will not allow any more prophecies. My response to this would be a long series of quotations from a talk given recently by the Apostle, Elder Jeffrey R. Holland, but I think it would be more sensible for you to read it or listen to it or watch it (below) yourself.