Q. Do Mormons believe Jesus canoed across the Atlantic to America?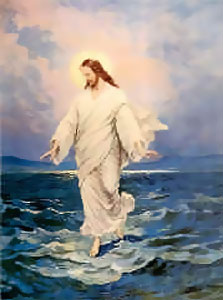 Of course not. He just walked across.
Seriously, though, this is a good question, and it shows how successful the enemies of our Church have been in spreading falsehoods and half-truths. It's easy to throw slogans around. The sillier the slogan, the easier it is for people who don't know any better to dismiss us and our beliefs out of hand.
No. Mormons don't believe Jesus canoed across the Atlantic. Where did this particular slogan come from, then?
We believe that Jesus intended the whole earth to hear His message. There were people beyond the borders of the Middle East who, for centuries, prayed to God, hearkened to the local prophets, and wrote His teachings in scripture. Jesus speaks of them, "I am the good shepherd, and know my sheep, and am known of mine…And other sheep I have, which are not of this fold: them also I must bring, and they shall hear my voice; and there shall be one fold, and one shepherd" (John 10:14,16).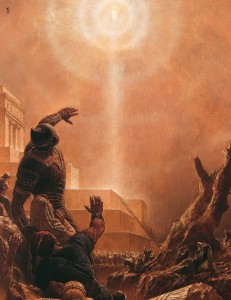 Shortly after the resurrection and ascension of the Savior in Israel, he appeared to a group of people across the globe in America. Rather than arriving on shore in a kayak, he opted for a more dramatic, brilliant appearance in the sky, followed by a slow descent. He spoke to the people, gathered at the ancient temple (many scholars place it in central America), and invited them to feel the nail-wounds in His hands and feet, and the scar in His side (see 3 Nephi 11).
This account, along with much more about these ancient American Christians can be found in the Book of Mormon (subtitled, "Another Testament of Jesus Christ"). Because Jesus preached the same gospel in both America and Israel, this becomes an even stronger witness for the Bible and for Jesus Christ. You can know whether it's all true by asking God yourself in the name of Jesus Christ and He will manifest the truth unto you by the power of the Holy Ghost (see Moroni 10:3-5).