If you've been reading this blog much, you've probably heard us raving about how great it is to have a modern-day living prophet. We think it's pretty cool. It's the connection to God that sets our religion apart.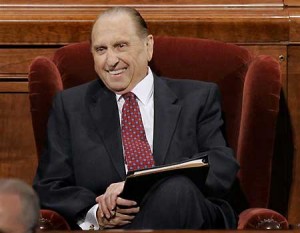 You too can learn what all the hullabaloo is about: this weekend is the semiannual, world-wide broadcast of the General Conference of the Church of Jesus Christ of Latter-day Saints. Over the course of two days, our beloved prophet, Thomas S. Monson (along with his two counselors and the twelve Apostles of Jesus Christ) will gives us the guidance that the Lord wants us to receive about issues that matter to us,today.
Sad that you missed Moses' great sermons? Disappointed that the preaching days of Peter, James, and John are through? Those eras are past and gone, but there is revelation now and you can take advantage of this opportunity this Saturday and Sunday!
If you live near Utah, tune your TV or radio to KSL. Satellite and cable stations generally carry the BYU channel, and you can always watch live online in streaming video. (Streaming audio is also available in just about any language you like). If you're in Salt Lake City on either day, you can also try to get tickets to the conference center. They are always free, so you'll need to act fast to find some. Contact your local missionaries, or the sisters on temple square.
The schedule is as follows (Mountain Daylight Time):
Saturday October 4, 2008
10 am – noon ~ First session
2 pm – 4 pm ~ Second session
Sunday October 5, 2008
10 am – noon ~ Third session
2 pm – 4 pm ~ Fourth session
And please, share with us what you thought of it.