Most people tend to view life after death in the simple terms of heaven and hell. There is a place for the good people and a place for the bad people. In my last post, Life After Death Part 1, I explained that there is a temporary state between death and resurrection where everyone will be placed in prison or paradise. However, after resurrection (after Judgment Day), our eternal existence is somewhat more complex.
In 1832, Joseph Smith and Sidney Rigdon had been studying the bible and thinking.  Joseph wrote that they came to a realization: "It appeared self-evident from what truths were left, that if God rewarded every one according to the deeds done in the body, the term 'Heaven,' as intended for the Saints' eternal home, must include more kingdoms than one." (Preface to Doctrine & Covenants 76, see also John 5:29) Subsequently, they beheld a vision in which the three degrees of glory were revealed to them. (Doctrine & Covenants 76)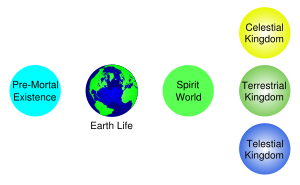 There is the Celestial Kingdom, the Terrestrial Kingdom, and the Telestial Kingdom. These are likened to the sun, the moon and the stars in their comparative glory. (Paul also spoke about these in 1 Corinthians 15:40-42) These kingdoms are varying degrees of "salvation": everyone will receive salvation in some form or another, meaning all will be resurrected and placed in one of these kingdoms. The term "exaltation" however, is the highest form of salvation, reserved for those in the Celestial Kingdom.
Reserved for the most wicked is what is known as Outer Darkness. Those that will be cast into outer darkness and eternal damnation are those who deny the Holy Ghost. They are called "Sons of perdition" and this is not a title I would consider lightly. I do not believe it belongs to your "average" sinner. These are the baddest of the bad; they know the goodness of God and still choose to rebel.
Those in the Telestial Kingdom do not accept Christ as the Savior in this world or the Spirit World. I would say these are "bad" people. As verse 103 says, "These are they who are liars, and sorcerers, and adulterers, and whoremongers, and whosoever loves and makes a lie."
Those in the Terrestrial Kingdom are good, decent people: people who are half-hearted, or complacent in their testimony. They are described as "honorable men of the earth who were blinded" and "not valiant in the testimony of Jesus." (D&C 76:75,79)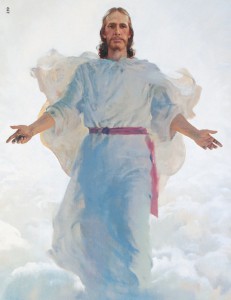 Those in the Celestial Kingdom are those who accept Christ as the Savior, those who are faithful in their testimony and continuously strive to do the will of the Lord. These are those who endure to the end and follow Christ's admonition to "be ye therefore perfect, even as your Father which is in Heaven is perfect" (Matt. 5:48) This is the goal to strive for and it requires a life of faith, obedience, and dedication as we grow into the divine role for which we are intended.
I believe the things we should take from this knowledge are: 1) God has a plan, and 2) While it is a simple plan, it accommodates the complexities and ranges of His children and their faithfulness. We will be rewarded according to our steadfastness in keeping our covenants as we attain our divine potential.
See "The Plan of Salvation"