If you're anywhere near the state of California, and maybe even if you're not, you probably recognize this hot topic: Proposition 8, establishing the legal definition of marriage.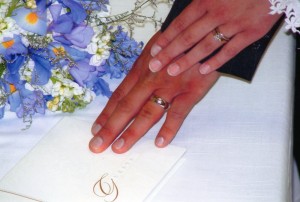 The Church of Jesus Christ of Latter-day Saints has made its position on this issue very clear. In fact, the Church has held a strong stance on this point for many years, even before it became an issue in the courts of our country. In 1995, the Church issued The Family: A Proclamation to the World as its official position emphasizing the importance of the family as the basic unit of society and its role in God's plan.
God has ordained marriage between a man and a woman. This is a central part of God's plan for his children. The First Presidency has explained how closely marriage and procreation go together: "Marriage is not primarily a contract between individuals to ratify their affections and provide for mutual obligations. Rather, marriage and family are vital instruments for rearing children and teaching them to become responsible adults." (The Divine Institution of Marriage) Obviously, a couple does not have to be married to employ their procreative powers, but it is much more preferable that children be born to parents who have made a commitment to one another and are thus more likely to raise their children within the loving circle of a stable family. And of course, there are couples who marry who do not have children. But, it is the Lord's will that children be born into families, with a mother and a father united in the bonds of matrimony.
The government traditionally recognizes marriages not because two people love each other but because, in most cases, they become a family (see article by Adam Kolasinski for more information). Were love the only issue, would we extend the same benefits to every boyfriend and girlfriend? The best environment for children to grow is one in which they have both a mother and a father, with their inherent differences that complement one another. Of course there are single parents out there, but I emphasize that a child's emotional, physical, and psychological needs are best met when they are raised by a loving mother and a responsible father. As a society, we should not encourage or foster anything but the best environment possible for our posterity.
Church leadership encourages voters to be active in politics, but does not advocate one party above another. We believe strongly that everyone can and should make an informed decision for themselves. I believe the Church supports Proposition 8 for a number of reasons, one of which is the protection of freedom of religion for those churches that do not believe the legal definition should be expanded to included same-sex marriages.
If the government recognizes same-sex marriages, churches which believe such marriages are not ordained of God could well lose their tax-exempt status. Furthermore, if a church or its minister believes homosexual marriages are wrong and refuse on that basis to perform same-sex marriages, it is likely that they would be subject to lawsuits alleging discrimination. Isn't it the right of every U.S. citizen to exercise their freedom of religion? We feel that it is our right to recognize marriage according to our doctrine, and don't want the government to have power to interfere with that right. Legally, failing to pass Proposition 8 has huge consequences.
The social consequences would be even more widely felt, as it's almost inevitable that homosexuality would be added to elementary school sexual education curricula, as has been done in Connecticut and Massachusetts. Many people believe such actions involve much more than just sexual education or teaching children about socially acceptable types of family relationships. These matters are also part of religious beliefs and, yes, family values. Are we really ready to allow our government to refuse to allow parents the right to decide what their children should learn about these issues, or when their children are mature enough and have the prior understanding necessary for such information to be presented to them?
For those who argue this is a hugely intolerant position to take, let me emphasize that Proposition 8 is not an offensive measure: it's a defensive measure. It is not intended to root out an evil in our society, but to defend the divinely established institution of the family from being politically disenfranchised. Passing Proposition 8 is not going to strip away rights from homosexuals, who are still allowed the rights of civil unions and domestic partnerships. I'd also like to share a quote from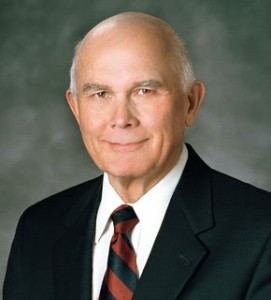 Elder Dallin H. Oaks, one of the twelve apostles, regarding tolerance. He says,
"Tolerance obviously requires a non-contentious manner of relating toward one another's differences. But tolerance does not require abandoning one's standards or one's opinions on political or public policy choices. Tolerance is a way of reacting to diversity, not a command to insulate it from examination."
You see, being tolerant and holding certain standards are not mutually exclusive of one another. We do not want to be misunderstood here: the gospel message is one of unconditional love. But we claim the right to remain a people who stand for values that we believe to be right and consistent with God's will.
There are numerous economic, financial and legal reasons to support the traditional family, but I do not want to stray from the purpose of this blog (providing information about Mormonism to non-members) and turn it into a political arena. Rather, I feel that this is a strong stance taken by the Church because it pertains to our doctrine. The family and its inherent nature are a core part of our beliefs. I hope that this article clarifies our position and reasoning.
It is our duty as citizens to tell our government what our standards are and determine what our society accepts. We live in a republic where the will of the people is carried out by their elected representatives. If most people in California want to protect the definition of marriage in their state then it ought to be upheld. A handful of judges do not have that right. If you live in California, be sure to register to vote and protect the traditional family. Encourage friends and family in California to do the same.
Resources for this topic:
preservingmarriage.org
protectmarriage.com
The Divine Institution of Marriage
The Secular Case Against Gay Marriage