Every six months the heads of our Church invite us to participate in a General Conference. The prophet, his counselors, and the twelve apostles each speak to us, along with other general authorities and officers. One of my favorite talks was given by a man named Bruce C. Hafen, who currently serves as a member of the quorum of the Seventy.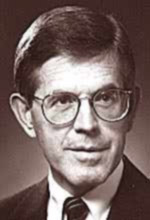 His talk, called The Atonement: All for All, clarifies ideas such as the fall of Adam, the atonement of Jesus Christ, the interplay between grace and works, and the purpose of life. I'll list some of my favorite quotations below. I encourage you to read his talk in full or listen to it, so you will better understand our position on these controversial subjects.
(Following are snippets from his talk. They are individually profound, but lack cohesion from paragraph to paragraph. See the original talk for proper context.)
As we "talk [more] of Christ" (2 Nephi 25:26), the gospel's doctrinal fulness will come out of obscurity. For example, some of our friends can't see how our Atonement beliefs relate to our beliefs about becoming more like our Heavenly Father. Others mistakenly think our Church is moving toward an understanding of the relationship between grace and works that draws on Protestant teachings.
Adam and Eve learned constantly from their often harsh experience. They knew how a troubled family feels. Think of Cain and Abel. Yet because of the Atonement, they could learn from their experience without being condemned by it. Christ's sacrifice didn't just erase their choices and return them to an Eden of innocence. That would be a story with no plot and no character growth. His plan is developmental—line upon line, step by step, grace for grace.
Only the restored gospel has the fulness of these truths! Yet the adversary is engaged in one of history's greatest cover-ups, trying to persuade people that this Church knows least—when in fact it knows most—about how our relationship with Christ makes true Christians of us.
The rich young man had given almost everything. When the Savior told him he must sell all his possessions, that wasn't just a story about riches (Matthew 19:16-22).  We can have eternal life if we want it, but only if there is nothing else we want more.
So we must willingly give everything, because God Himself can't make us grow against our will and without our full participation. Yet even when we utterly spend ourselves, we lack the power to create the perfection only God can complete. Our all by itself is still only almost enough—until it is finished by the all of Him who is the "finisher of our faith" (Hebrews 12:2).  At that point, our imperfect but consecrated almost is enough.