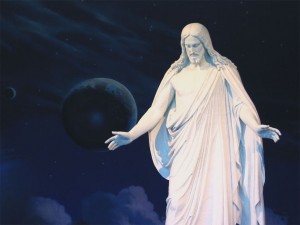 Q. Do LDS members believe that they will become gods of their own planets in the afterlife?
What an excellent question. It is my hope to lay the foundation so that you can better understand what we do believe. However, I urge you to focus on the core of our beliefs: the atonement of Jesus Christ, because with that our other doctrines will be more understandable.
First, in Jesus' Sermon on the Mount he says: "Be ye therefore perfect, even as your Father which is in heaven is perfect" (Matthew 5:48). The Greek word used here means complete, finished, fully developed, rather than simply error-free or sin-free. Therefore, I want to pose a question to you: what does it mean to be perfect as Heavenly Father is perfect? You might respond that perfection means keeping all of the commandments, or in other words, to make no mistakes in life. While God does keep all of the commandments and is perfect in that sense, he is much more than that. God is completely perfect, he is omnipotent, omniscient, perfectly just, perfectly merciful, perfectly honest, perfectly wise, he doesn't change, and he is perfect in his love for all of us. If we are going to become perfect as Christ commanded us to be, then not only do we need to keep the commandments, but we need to acquire all of the attributes above. This can only be accomplished through the atonement of Jesus Christ.
The meaning of the word atonement is to set at one (at-one-ment). In the case of the atonement of Jesus Christ, with whom is he setting us at one? The Father. As a result of the Fall of Adam, Adam and Eve became imperfect and were removed from the presence of God. Since Adam and Eve acted contrary to the commandment of God, they were unclean and their bodies also became imperfect. Furthermore all of their children were in the same state. Thus, the need for a Redeemer—someone who could make our bodies perfect and also cleanse us from the imperfection of sin (both of these events are accomplished by the resurrection and atonement of Jesus Christ). Therefore, God in his infinite mercy prepared a way that we could be delivered from this combined imperfection. The only way that this 'setting at one' could happen was through the sacrifice of one who had not sinned; therefore, God sent his Son to give all men and women the opportunity to be redeemed from the Fall (John 3:16, John 14:6, 1 Corinthians 15:20-22).
The next question arises, what does it mean to be at one with God? In Jesus' intercessory prayer (John 17:20-23) in the Garden of Gethsemane, he prays to the Father:
20 Neither pray I for these alone, but for them also which shall believe on me through their word;
21 That they all may be one; as thou, Father art in me, and I in thee, that they also may be one in us: that the world may believe that thou has sent me.
22 And the glory which thou gavest me I have given them; that they may be one, even as we are one:
23 I in them, and thou in me, that they may be made perfect in one; and that the world may know that thou has sent me, and hast loved them, as thou has loved me.
Christ is saying that he and the Father are one, because they are perfect and he is pleading with the Father to give us the opportunity to become like him and his Father—perfect in every way. The atonement of Jesus Christ is the power of God unto salvation to all that believe in him, regardless of who they are (see Romans 1:16). However, the atonement of Jesus Christ extends beyond the concept of forgiveness of sin. It extends into much holier spheres, allowing us to become fully developed, as the Father and Christ are, and allowing us to fulfill Christ's commandment. This sanctifying power is available to all if they are willing to take upon them the name of Jesus Christ in his prescribed manner and live their lives according to the doctrines and principles that he and his prophets teach.
Christ said that he is preparing a place for us in his Father's mansion (John 14:2-3), but what will we do when we get there? I highly doubt that we will sit on clouds strumming our harps. Certainly, when we exit this life we won't know as much as God does, nor will we have all of his other perfection. If we are to become perfect like he is, we have a lot to learn. The continuation of this growth and progression once we graduate from earth leads to the complete, fully developed, and perfect state that Christ was talking about.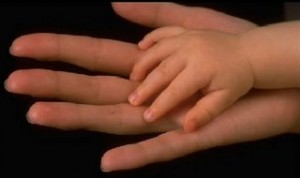 Now that the foundation has been laid, I would like to share a few verses of scripture that highlight this progression to becoming perfect in the way that God and Jesus are perfect:
Psalm 82:6 (italics added)
6 I have said, Ye are gods; and all of you are children of the most High.
John 10:33-34 (italics added)
33 The Jews answered him, saying, For a good work we stone thee not; but for blasphemy and because that thou, being a man, makest thyself God.
34 Jesus answered them, Is it not written in your law, I said, Ye are gods?
Revelation 3:21 (italics added)
21 To him that overcometh will I grant to sit with me in my throne, even as I also overcame, and am set down with my Father in his throne.
Doctrine and Covenants 76:94-95 (italics added)
94 They who dwell in his presence are the church of the Firstborn; and they see as they are seen, and know as they are known, having received of his fullness and of his grace;
95 And he makes them equal in power, and in might, and in dominion.
I hope that you will take a few things away from these verses. First, we are children of our Heavenly Father; therefore, there is a seed of divinity within us (Romans 8:16-17). Second, if we nourish that seed and live our lives according to the plan Christ and his prophets have outlined we are granted the opportunity to rule with Christ and his Father in their kingdoms. Third, being able to rule with Christ and the Father also entails that we will be made equal in power, might and dominion.
Now to answer your question with the foundation being laid, do we believe that we will become gods, ruling our own planets? We believe that through Christ all men and women can be made perfect as God and his son Jesus Christ are perfect. Nowhere in scripture does it explicitly say we will rule our own planets. Truth is, we don't know exactly what will happen in heaven, except that we will continue growing and learning. We will just have to wait until after this life is over to find out what it means to become perfect like God and Jesus are perfect.
I hope that you can now see how beautiful our doctrine is and how much hope there is in our beliefs. This Church does not confine itself with only this life, but it's doctrine stretches across all eternity and affords all of us the opportunity to see ourselves as God sees us—with divine potential. There is a purpose to our existence and it buoys up the soul to learn that God knows us and in his infinite wisdom He has prepared a way that you and I might become perfect. What is the problem with believing that?
The most important part for you and I at this time is to be baptized by one who holds the authority from God, to take upon ourselves the name of Christ and to commit to serve him until the end of our days, striving daily to live our lives according to his plan. We cannot comprehend the glory of God, nor can we comprehend what it means to be perfect, but I do believe in the promises of Christ. I know that Jesus is the Christ and that his Father is God and that through Christ I can become perfect. Therefore, I will worry myself with preparing myself to meet God and let God take care of the rest. I encourage you to do the same. Thank you for your inquiry.