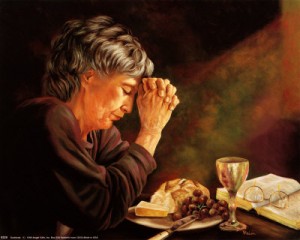 "…live in thanksgiving daily, for the many mercies and blessings which the Lord doth bestow upon you."
Alma 34:38
A grateful heart is among the greatest of attributes that we can learn in this life. Everything we have should be received with gratitude and thanksgiving. The words, "Thank you," though simple, can mean more than anything else we can say. Jesus Christ gave an example by giving thanks to the Father before feeding the four thousand and at the last supper. Remember that of the ten lepers cleansed by His power, only one returned and he was blessed all the more.
"And he who receiveth all things with thankfulness shall be made glorious; and the things of this earth shall be added unto him, even an hundred fold, yea, more."
D&C 78:19
All of us have the ability to be more grateful for all things we receive, even though sometimes we must look for things for which we can be grateful. The more we look, the more we realize how much we receive from God and how dependent we are on Him. We can never repay all He has done for us, but we can live in gratitude for everything He gives us. When we live in such a way, our lives become fuller and even more blessed. So rather than complain of lack, let us give thanks for abundance. Give thanks to parents, to children, to siblings, to friends, to God and to everyone.
Happy Thanksgiving!