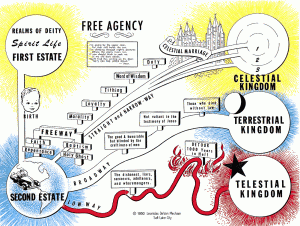 Q. If God had two separate revelations to America and Israel, why did he leave out the complicated afterlife progression in the middle eastern revelation and then give them to Joseph Smith?
Good question. I assume that you are inquiring about how we, as members of The Church of Jesus Christ of Latter-day Saints, believe that there are "three kingdoms of glory" in the afterlife, not simply the heaven and hell concept that the rest of the Christian world teaches.
It is apparent that we don't have all of the teachings of all the prophets of Biblical times. The Bible is a compilation of assorted writings of various prophets; it is not a complete book. Here are some references made by some of the authors to other epistles/books of scripture that we simply do not have today—they are lost books of scripture (Num. 21: 14, Josh. 10: 13, 1 Chr. 29: 29, 2 Chr. 9: 29, 2 Chr. 12: 15; 2 Chr. 13: 22, 2 Chr. 20: 34, 2 Chr. 33: 19, 1 Cor. 5: 9, Col. 4: 16, Jude 1: 14 ). If we know that manuscripts have been lost, isn't it safe to assume that teachings and doctrines have also been lost? That is a logical conclusion and a safe conclusion.  The Bible does not contain a complete record of what has been taught by Biblical prophets. This is where the restoration of the Gospel of Jesus Christ through Joseph Smith comes in—through Joseph Smith, God restored doctrines and truths that had been lost in previous eras. This is a beautiful concept. I love that God follows this same pattern over and over through history.   When people fall away from His gospel and truths are lost, He calls a prophet just as He always has and restores the fullness of the Gospel through that prophet.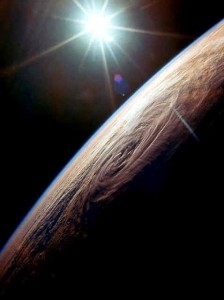 There is, however, evidence from the Bible that the doctrine of "three kingdoms of glory" was taught. In fact, it seems to be so well understood that Paul just refers to it offhandedly.   In 1 Corinthians 15:31-42, he teaches about the resurrection of the dead. Just as all animals are different (fish, birds, beasts), Paul clearly teaches that not all resurrected bodies are the same—there are celestial bodies, terrestial bodies, and telestial bodies, each with its own glory.  In addition, there are different glories (kingdoms)—the glory of the sun (Celestial kingdom), glory of the moon (Terrestial kingdom), and glory of the stars (Telestial kingdoms, of which there are many). It follows that if there are celestial bodies, then they must inherit the Celestial kingdom or glory of the sun and so forth. This is what was revealed to Joseph Smith and Sidney Rigdon in February 1832 (see Doctrine and Covenants 76).  In addition to there being celestial bodies and a celestial kingdom and so on, it was given to them what the basic characteristics would be of the people who are assigned to these different kingdoms.
So, while we don't have as full of an account of the afterlife progression from the Biblical prophets as we do from Joseph Smith there is still evidence that it has been taught the way Joseph Smith revealed it from at least the time of Paul and the early Church leaders.
For a more detailed explanation of our doctrine on the afterlife, see these two great posts: Life After Death: Part 1 and Life After Death: Part 2
Thanks for your inquiry.