Lasciate ogne speranza, voi ch'intrate 
Q. What do Mormons believe about hell, and who is going there?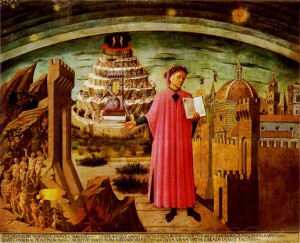 Short answer: Mormons believe in hell, but our conception of hell is different than the one that generally springs to mind, and we use the word to mean different things in different contexts.  For us, there are two "hells", really.  One is a state of pain, guilt, and anguish where the spirits of the wicked will be after they die but before the final judgment (we often call this state spirit prison).  The other is an everlasting state of hell reserved for a few truly wicked (we commonly refer to this one as outer darkness).  Because the second state only applies to few, for the majority of people hell will not last forever: after the final judgment most people will receive some degree of glory.
Long answer: I wrote this post because I've found that people assume we believe in the traditional hellfire and damnation, and that causes a lot of misunderstanding. For instance, we claim to be the only religion with the "fullness of the gospel," and that you have to be baptized by someone authorized by God (only in the LDS church) in order to be saved. People hear that and assume that we therefore believe that everyone else is "going to hell" in the sense that most modern Christians would use the phrase. That isn't our belief, however.
What is hell? The word hell in the Bible is the English translation of the Greek word hades or the Hebrew word sheol. It originally referred to a temporary dwelling of spirits of all dead people, both righteous and wicked, and not solely as a place of punishment.  The word hell didn't evolve the sense of being a place of everlasting punishment until later (see reference 1, or click the word hades above for further reading).
That doesn't mean that there isn't a place of suffering, however. We believe that when we die, our spirits go to a place that we call the Spirit World to await the resurrection and judgment. Furthermore, the Spirit World is divided into two general states: paradise and prison, depending on how you have lived your life (see Megan's two-part summary of the afterlife). In the Spirit World, everyone gets an equal chance (if they didn't have it on earth) to hear and accept the gospel. Unrepentant people will still suffer, and we still refer to their suffering as "hell."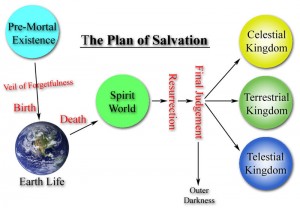 What is hell like? The torment of the wicked isn't described in much detail in the Bible, but King Benjamin in the Book of Mormon taught that the knowledge of our guilt would be our torment:
Therefore if that man repenteth not, and remaineth and dieth an enemy to God, the demands of divine justice do awaken his immortal soul to a lively sense of his own guilt, which doth cause him to shrink from the presence of the Lord, and doth fill his breast with guilt, and pain, and anguish, which is like an unquenchable fire, whose flame ascendeth up forever and ever. (Mosiah 2:38)
Alma (also in the Book of Mormon) wrote that we will not be able to look up to God, "and we would fain be glad if we could command the rocks and the mountains to fall upon us to hide us from his presence" (Alma 12:14)
It's important to know that this suffering, while agonizing, will not last forever. Of those who would eventually inherit the lowest degree of glory, Joseph Smith taught:
These are they who are liars, and sorcerers, and adulterers, and whoremongers, and whosoever loves and makes a lie. . .These are they who are cast down to hell and suffer the wrath of Almighty God, until the fullness of times, when Christ shall have subdued all enemies under his feet, and shall have perfected his work; (D&C 76:103, 106)

What about the sons of perdition? We believe that one day "every knee shall bow and every tongue confess" that Jesus is the Christ. With a few exceptions  everyone will be redeemed. Death and Hell will deliver up their captive spirits (2 Ne 9:12, Rev 20:13), all men will be resurrected and be brought forth to be judged and receive a degree of glory. The few exceptions I mentioned are called "sons of perdition."
Sons of perdition are the truly evil. They are those that want no part in salvation. They deny the truth and defy God's power, and crucify the Savior unto themselves, and put him to an open shame. They are the only ones who shall not be redeemed in the due time of the Lord (D&C 76:31-38). They do not inherit a glory at all, but rather dwell with the devil and his angels forever. Their state is sometimes referred to as "hell" also, or "outer darkness," though both of those words also refer to the temporary state. It's hard to be a son of perdition. Really hard. Cain and Judas hard. For all intents and purposes, it's not even an option for the majority of humanity.
If everyone will just be saved, why does anyone's conversion even matter? I thought you'd never ask! It matters for two reasons: 1) The wicked will still suffer. A lot. Enough that no amount of raucous fun you could have on earth would ever possibly be worth it. And 2) There are very different degrees of glory that you will inherit forever, based on how much you were "willing to receive." But that's a topic for a different day.
(1) See Frederic W. Farrar, Eternal Hope (1892), xxxvi-xlii