If you're still wondering about the "Christianity" of Mormons, I suggest you ask yourself what a true Christian is. Make a list. What are the beliefs that define Christians? What kind of behavior would you expect to see? Who are the prime examples of Christians you have met in your life?
Write out the list on a piece of paper. Or, write it below in the comments.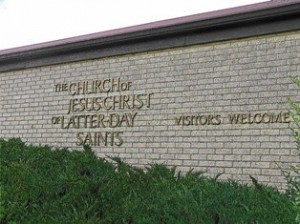 The best way to see if Mormons match your list is to meet some for yourself. We are everywhere, but we blend in, so you might have to watch carefully. Your best bet is to locate an LDS meetinghouse in your area and pay them a visit this Sunday. Our churches often have tall steeples, and neatly kept grounds. You won't see crosses or illuminated signs, but you will invariably see the name of our Church followed by the two words, "Visitors Welcome."
A Mormon service consists of three meetings, one after another. 1) Sacrament meeting is for the entire congregation. We sing hymns, say prayers, listen to sermons, and most importantly, we partake of the sanctified bread and water to remember the sacrifice of our Lord.
2) Sunday school is a smaller group setting where we learn from a teacher about doctrines of the gospel. It's a good place to get involved and ask questions, and ideal for your "Christianity" investigation here. In fact, most congregations have a class called "Gospel Principles" which is geared primarily toward those who are just getting their feet wet in the Church, and those who are just curious.
3) Priesthood and Relief Society are separate meetings for the men and women respectively. The priesthood quorum can be thought of as a brotherhood. Our lessons focus on the unique challenges and responsibilities we face as men in the Church and in our families. Likewise, the sisters have lessons devoted to their roles. I personally, have never attended a Relief Society meeting, but from what I hear the sisters love it.
I should add that all the sermons, lessons, and leadership I mentioned are provided by members of the congregation without pay. We are all called to serve in various positions for a period of time. For example, my bishop (pastor) works at the hospital as an orthopedic surgeon.
Once you've met a few Mormons and listened to their talks and lessons, you may decide for yourself if we are Christians. I'd love to hear your verdict.