Q. What are magical Mormon underpants?
We Mormons are usually pretty understanding and thick-skinned when it comes to questions about our faith, but it is offensive to us when some of our most sacred concepts are treated lightly.  The holy garment is one example.
When I hear it called "magical underpants" I cringe.  I realize you had no ill-intent; you were probably just repeating someone else's words, but I hope to convey that sacred things need to be treated with dignity and respect.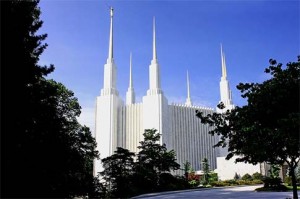 The holy garment is clothing worn beneath street clothes of latter-day saints who have gone to the temple.  When we go to the temple for the first time, we enter into an important covenant with the Lord.  We promise, basically, that we will live in obedience to the Lord through sacrifice, purity, and giving.  The Lord promises protection from temptation and physical harm, as well as a place at His right hand (if we honor our part of the covenant).
The garment is provided as part of that protection from temptation and physical harm.  It is also a daily reminder of these promises we've made, much the same way a wedding ring reminds a man to devote himself to the vows he made to his wife.
Another part of the covenant is that we keep our covenants and our garments sacred and holy.  There is a reason we don't display them on the outside of our clothes.  It's the same reason a Mormon might balk at your question.  Jesus taught on the mount, "Give not that which is holy unto the dogs, neither cast ye your pearls before swine, lest they trample them under their feet, and turn again and rend you" (Matthew 7:6).
And in case you think this is some sort of exclusive secret club, know that we want you to join us and enter into these same covenants with the Lord.  You are invited!
Boyd K. Packer, the current president of the Quorum of the Twelve apostles gave this invitation (emphasis is mine):
"The ordinances and ceremonies of the temple are simple. They are beautiful. They are sacred. They are kept confidential lest they be given to those who are unprepared. Curiosity is not a preparation. Deep interest itself is not a preparation. Preparation for the ordinances includes preliminary steps: faith, repentance, baptism, confirmation, worthiness, a maturity and dignity worthy of one who comes invited as a guest into the house of the Lord.

"All who are worthy and qualify in every way may enter the temple, there to be introduced to the sacred rites and ordinances" (The Holy Temple, Packer 1995).
The garment means a lot to those who wear it, but it isn't meant to be shown to the world.  Please be one of our few allies in showing respect for our sacred things.