Q. Why do you think smoking is so bad? Why is everything so bad?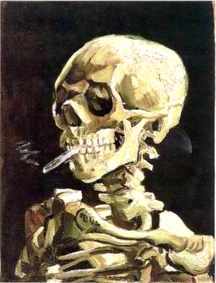 You sound like a struggling nicotine addict I knew, who wanted me and God and his conscience to stop pestering him to straighten up. By demanding from me an ever-better-but-never-good-enough reason to quit, he was really making for himself an excuse to keep smoking. Sound familiar?
Way deep down, though, you want peace. A quiet conscience and confident self-control. This peace will not come to you as long as you bind yourself to your cigarette master. You know it, but you also know what a terrible and difficult road it is to quit. You have probably tried several times already.
Get help. If you don't have friends or family who want you to give up smoking, contact the local LDS missionaries. They have a highly-successful stop-smoking program that they will teach you for free, just because it's their job to help people repent and come closer to Christ and feel the peace that only He can bring.
Don't focus on the tough road ahead of you. Think of your destination. How wonderful will it be to put your $5 per pack into groceries or gifts for your children? You won't feel compelled to take a five-minute break every hour. You will start tasting delicious foods again. You will have energy. Your shame and guilt will turn into confidence. Think of how nice it will be not to have to ask the question above; never having to rationalize your habits.