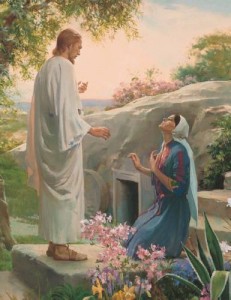 First of all, I hope everyone had a happy Easter!
Recently, there have been a number of articles posted here referring to our eternal nature and I think it's time we discussed this. So, what do Mormons believe about the afterlife?
We believe, as do other Christians, that Christ died and three days later was resurrected. He overcame death and because He rose again, all mankind is freed from the bondage of death. Regardless of age, race, gender, religious beliefs, good actions or bad actions, everyone will be reunited with their bodies at the time of the resurrection, after Christ's second coming.
But what happens in the meanwhile? Before becoming resurrected beings our spirits dwell in the spirit world. Those who accepted the gospel of Christ during their mortal lives will be in spirit paradise and those who did not, either due to ignorance or rejection, will be in spirit prison. There will be opportunities for those in spirit prison to accept the gospel of Christ as missionary work continues in the spirit world. It is here, in the spirit world, that Christ spent those three days while His body lay in the tomb (see Doctrine & Covenants 138:29-34).
Dale C. Mouritsen explained, "Peter refers to the spirit world as "prison," and it is for some. (1 Pet. 3:18–20, 1 Pet. 4:6.) However, it is chiefly a place of learning and waiting, not a place of suffering. Here, those who did not have an opportunity in mortality to receive the gospel and those who had a partial opportunity but rejected it will be taught." However, for those in spirit paradise, the spirit world will be a place of great activity as they will be the ones on whom the responsibility falls to spread the gospel message. There is much work to be done there!
For further reading, I recommend the following excellent articles:
"Because I live, ye shall live also", President Ezra Taft Benson, Ensign Apr. 1993, 2
"Salvation for the Dead", Liahona Jun 1992, 25

"The Spirit World, Our Next Home", Dale C. Mouritsen, Liahona Dec. 1977, 3