For I am not ashamed of the gospel of Christ: for it is the power of God unto salvation to every one that believeth. Romans 1:16
The word gospel is derived from the Old-English spelling of God-spell, or rather, good news.  The term is not limited in referring to the first four books of the New Testament, but rather refers to the good news that "Jesus Christ has made a perfect atonement for mankind that will redeem all mankind from the grave and reward each individual according to his/her works." (Bible Dictionary: Gospel)  This makes those books commonly referred to as the gospels, testimonies of that gospel, being witnesses of Jesus Christ, of His life and teachings.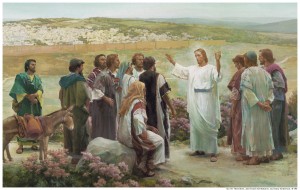 The true and everlasting gospel of which the apostles and all the prophets testified throughout their lives was taught to men on the earth since the time of Adam.  "And thus the Gospel began to be preached, from the beginning, being declared by holy angels sent forth from the presence of God, and by his own voice, and by the gift of the Holy Ghost." (Moses 5:58)  Every prophet that was called of God, was instructed to teach the people of this gospel.  They testified of Christ, His atonement and sacrifice and implored the people to repent, come unto Christ and receive the gospel into their lives.  This call was often rejected, as told in the scriptures, and resulted in repeated periods of apostasy wherein the true gospel was lost.  Repeated periods of apostasy were ended by repeated callings of prophets to restore what was lost until Christ Himself came to earth to teach His own gospel and also to fulfill it.
Christ's apostles went abroad to spread this good news.  The bad news is that they too were rejected and martyred and the world was left bereft once again of the truth; that is, until the truth was restored once more by a prophet called of God.  That gospel is now being taught all across the world and people everywhere are coming to the knowledge that Christ lives and loves each one of us and that He has prepared a way for us to prosper in this life and return to Him once we pass into the next.
The faithful would never forget that good news that they were redeemed and they rejoiced in the future where the Lord's kingdom would be established and His gospel would be preached around the world.
How beautiful upon the mountains are the feet of him that bringeth good tidings, that publisheth peace; that bringeth good tidings of good, that publisheth salvation; that saith unto Zion, Thy God reigneth!  Thy watchmen shall lift up the voice; with the voice together shall they sing: for they shall see eye to eye, when the Lord shall bring again Zion. Isaiah 52:7-8
This testimony of Isaiah was a prophecy of our time that the gospel would be preached when the Lord brings Zion to the earth.  It was also an outpouring of gratitude that he felt towards God for His greatness, glory and love for all mankind in that He caused His gospel to be available to all those who would want it.  God indeed gives everyone the opportunity to receive the happiness and joy that comes with accepting the true and living gospel of Christ.  I am a witness that the good news of the atonement is real.  Christ lives and is waiting for each one of us to come to Him.  "If ye love me, keep my commandments."