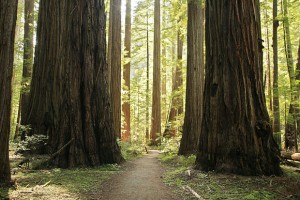 In the course of my journey as a member of The Church of Jesus Christ of Latter-Day Saints, there have been numerous times where I have questions come up that challenge my faith.   I can't speak for all Mormons, but I would assume that we all go through these cycles from time to time.  I picked this topic to write about, because I want others who are not of our faith to know that I do have questions and from time to time finding answers to these questions causes spiritual turmoil.  However, it is during these times that I grow the most spiritually.
The foundation of my belief is rooted in Joseph Smith's testimony that he was in fact visited by God the Father and Jesus Christ.  This visit came in response to Joseph's prayer to know which church he should join.  They gave him specific instructions — he was to join none of the churches, because none of them were right (Joseph Smith History 1:1-20).  What followed next in Joseph's life is phenomenal:  through him Jesus Christ re-established his Church, the Book of Mormon was translated, the authority to act and perform ordinances in God's name was given to man again, and the list could go on.  I will always remember the day that the truthfulness of this man's testimony was written upon my heart by the Holy Ghost.  I feel much the same as Joseph did:  I know it and I know that God knows it and I cannot deny it (JS-H 1:25).
However, even though I know Joseph Smith's story to be true, from time to time, something will come up that causes me to wonder.  For example, polygamy, or how the priesthood was distributed prior to 1978.  These challenges of faith, no matter how big or small, cause me to reflect and evaluate.  Sometimes, they cause me to think, "how could God's prophet do this, or say that?"  I learned a long time ago that there is a reason; however, in these times I have yet to discover the puzzle piece that makes the picture complete.  Often I have to go back to the basics that I know to be undeniably true–that Joseph Smith was a prophet of God and that he did in fact translate the Book of Mormon.  In other instances, I have to sit down and think about other confirmations that I have received from the Holy Ghost about a particular piece of doctrine, whether it is prayer, fasting, scripture study, marriage, or the priesthood for a few examples.  As I do this and ponder my question throughout the day or weeks, eventually someone will say something, or I will have a thought that comes to me, always accompanied by another confirmation through the Holy Ghost.  Then I can clearly see what I was missing.
These experiences strengthen my faith and further buttress my basic testimony of God.  In this way I have been able to move from truth to truth and from grace to grace, learning about God and the grand plan that He has designed for our eternal happiness.  I am grateful that there is a God and that He loves me perfectly (as He does all of us), even if that means that from time to time I have to struggle in my faith, because it helps me to grow stronger.