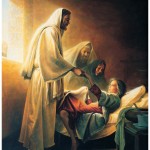 This last week a question was received asking about service, a pretty broad topic to be sure.  As I've pondered what to write in response, I kept thinking about how important the principle of service is in the gospel of Jesus Christ.  In Mathew 25:31-46, Christ teaches us a little about the final judgement.  He makes it clear how much our standing will depend on the service we give others.  In verses 34-40, He addresses those who have filled their lives with service,
"Then shall the King say unto them on his right hand, Come, ye blessed of my Father, inherit the kingdom prepared for you from the foundation of the world:
For I was an hungred, and ye gave me meat: I was thirsty, and ye gave me drink: I was a stranger, and ye took me in:
Naked, and ye clothed me: I was sick, and ye visited me: I was in prison, and ye came unto me.
Then shall the righteous answer him, saying, Lord, when saw we thee an hungred, and fed thee? or thirsty, and gave thee drink?
When saw we thee a stranger, and took thee in? or naked and clothed thee?
Or when saw we thee sick, or in prison, and came unto thee?
And the King shall answer and say unto them, Verily I say unto you, Inasmuch as ye have done it unto one of the least of these my brethren ye have done it unto me."
What strikes me most in these words is the attitude of these righteous people.  They served without thought of what they would get out of it.  They even seemed surprised that they were being rewarded for their acts of kindness.  Christ spent His life this way – compassionately serving those around Him – and has commanded us to follow His example (3 Nephi 12:48, Mathew 5:48).
As members of the Church of Jesus Christ of Latter-day Saints, the first sacred promise we make is at baptism.  This promise is to follow our Savior's example of service and act as He would.  In return, we are promised forgiveness for our sins and help through the gift of the Holy Ghost as we repent.  Alma, a great missionary and prophet in the Book of Mormon, describes this promise and our commitment to follow Christ (Mosiah 18:8-10),
"And it came to pass that he said unto them: Behold, here are the waters of Mormon (for thus were they called) and now, as ye are desirous to come into the fold of God, and to be called his people, and are willing to bear one another's burdens, that they my be light:
Yea, and are willing to mourn with those that mourn; yea, and comfort those that stand in need of comfort, and to stand as witnesses of God at all times and in all things, and in all places that ye may be in, even until death, that ye may be redeemed of God, and be numbered with those of the first resurrection, that ye may have eternal life-
Now I say unto you, if this be the desire of your hearts, what have you against being baptized in the name of the Lord, as a witness before him that ye have entered into a covenant with him, that ye will serve him and keep his commandments, that he may pour out his Spirit more abundantly upon you?"
Serving others as selflessly as Christ did takes practice for me.  However, as I keep trying I can feel the Savior's love for those I'm helping, and I develop a more Christ-like love for them too.  I know that Jesus Christ is my Savior and that His atonement is the greatest act of service and love anyone could do for us.  He truly is the perfect Examplar.