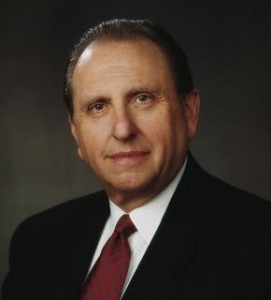 Today and tomorrow are what is known to Mormons worldwide as "General Conference Weekend." It happens twice a year — the first weekend of April and of October. It's a broadcast service in which the living Prophet and the twelve Apostles speak to all the world. Usually, Mormons are the bulk of the audience, but the messages are for all people, regardless of religion, and I would like to invite you to tune in.
If you live anywhere near Utah, you'll likely find the station on broadcast TV and radio. Satellite carries the BYU channel throughout the world. I believe some cable companies also carry it. If all else fails, the Church offers live streaming video on their website, along with LOTS of options for streaming audio in whichever language you prefer.
The schedule is as follows (Mountain DST):
Saturday April 5, 2008
10:00am – noon ~ First session
2:00pm – 4:00 pm ~ Second session
Sunday April 6, 2008
10:00am – noon ~ Third session
2:00pm – 4:00 pm ~ Fourth session
And please, share with us what you thought of it.
~~~~~~~~~~~~~~~~~~~~~~~~~~~~~~~~~~~~~~~~~~~~~~~~~~~~~
ADDENDUM:
The weekend is over and there were some terrific talks. I particularly liked Elder Dallin H. Oaks' sermon on testimony. How can we know things? There is more knowledge than can be gained by the scientific method, and a lot of it is more important.
Since there is no longer live streaming video, check out the Church's online audio and video archives to catch the talks you might have missed.