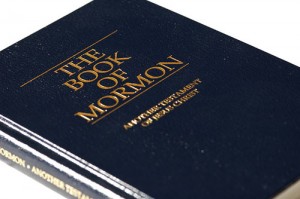 The Book of Mormon is remarkable.
The book is filled with amazing histories, noble people, and fascinating doctrinal insights, but the aspects I've thought about most are two promises, one at the beginning, and one at the end:
1) From the Introduction :
"[The Book of Mormon] puts forth the doctrines of the gospel, outlines the plan of salvation, and tells men what they must do to gain peace in this life and eternal salvation in the life to come."
(emphasis added)
It isn't just about some far away pearly gate. We can have peace now. And those who read the book do feel peace. It isn't a conspicuous leap into serenity. It's gradual, so you have to pay careful attention.
I recall one particular week I got busy and every single morning I overlooked my usual study of the Book of Mormon. By Friday I was in a notably sour mood, and when I went to give a friend some spiritual advice nothing came. I couldn't think. The well I was used to drawing from had gone dry.
2) From Moroni 10:3-5
3 Behold, I would exhort you that when ye shall read these things, if it be wisdom in God that ye should read them, that ye would remember how merciful the Lord hath been unto the children of men, from the creation of Adam even down until the time that ye shall receive these things, and ponder it in your hearts.

4 And when ye shall receive these things, I would exhort you that ye would ask God, the Eternal Father, in the name of Christ, if these things are not true; and if ye shall ask with a sincere heart, with real intent, having faith in Christ, he will manifest the truth of it unto you, by the power of the Holy Ghost.
Countless sermons have been given, dissecting every word of these three verses, but I just want to point out the obvious:
This book claims to be scripture; it claims that holy prophets transcribed it under God's inspiration.
God knows whether this claim is true or false.
It matters to Him: if it's false he'll want to warn you against it; if it's true he'll want you to read it.
He will wait for it to become important enough for you to ask Him yourself.
He will give you the answer by the power of the Holy Ghost.
This promise has stood against the test of my experience. For two solid years I introduced hundreds of strangers to the book and pointed them to this promise. A large proportion did not read it at all, and fewer people prayed about it. But out of every single person who did pray, 100% told me that they felt the answer was yes.
You can find out too. Get a copy for yourself. You can order a free copy online here, or read the entirety of it online here. You can even download mp3's of the audio book here.