Q. Do Mormons pray to or for the dead?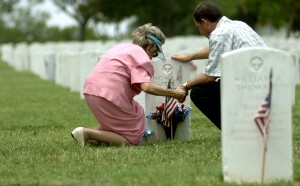 To the first part, no; we do not pray to the dead. We pray to God the Eternal Father. We believe in His Son, Jesus Christ and we end our prayers in Jesus' name.  We believe that the Father and the Son are both very much alive.
Perhaps you are referring to the uniquely Mormon practice of baptism for the dead.  It's not exactly a prayer to or for the departed, but an ordinance and covenant made on their behalf.  If that is what you meant, please read Baptisms for the Dead.
Regarding prayer for the dead, I would begin by recommending reading some of our other articles on prayer. Most recently, I like the way this one addresses how we pray and what we pray about.  Personally, I would say there's nothing wrong with praying for deceased loved ones.  In fact, I think it's a wonderful idea.  The prophet Joseph Smith received revelation pertaining to the eternal welfare of his late elder brother, Alvin.  I am sure the prophet Joseph prayed for his brother many times; he and his wife Emma likely prayed for the many children they lost as well.  I know I have personally prayed for loved ones who have passed on, both those I knew in life and those I did not have the opportunity to meet.
There is a great bond that joins all generations. As Malachi of old prophesied, "Behold, I will send you Elijah the prophet before the coming of the great and dreadful day of the Lord. And he shall turn the heart of the fathers to the children, and the heart of the children to their fathers, lest I come and smite the earth with a curse" (Malachi 4:5-6).
So go ahead and pray for deceased loved ones. God will undoubtedly hear you.