Last week in Primary, I was trying to teach the children in our ward about how our spirits and bodies interact, and I discovered that Marvel had described it pretty well.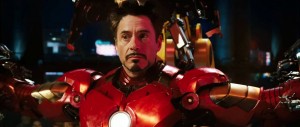 Our spirits are the eternal parts of us–they hold our personalities, our flaws, our potential, our divine nature.  Our bodies are simply outer shells that amplify our spirits.  Think of Iron Man.  His suit allows him to do amazing things–fly, shoot lasers, swim down deep in the ocean.  Things that his body, alone, could not do.  But his body is controlling the show.  Tony Stark is a moderately good person, and he mostly uses his suit to do good things.  But think if Captain America got in that suit?!  He would use it solely to do good.  Not to be a show off, not to profit for himself.  Now think of if that crazy red-faced villain got the suit.  He would use it completely for evil.  We don't want him to get the suit.
Our spirits enter our bodies and get to do things that they haven't ever been able to do before: eat (oh, I'm sure that when I get a body, I'll just eat healthy and moderately),  sleep (I bet on earth I'll sleep exactly 8 hours a day), have a family (I'll wait till marriage!  Of course!), exercise (every. day.).  And the list goes on.  Our spirits didn't have the same physical experiences without a body, and they were anxious to get one.  And now we cruise around earth in these suits that amplify our spirits– if our spirit has a lot of pride, we use our body for vanity, we seek wealth, we put other people down.  If our spirit has a problem with anger we have the equivalent of laser guns with our muscles, arms and legs.  We are capable of so much destruction in these suits, but also so much good.  If our spirits are full of faith, we can show it by physically attending church, giving compassionate service to people in need, hugging our children.  If our spirits are thirsty for knowledge, we can incorporate information and wisdom much more quickly in the physical world–touching, experimenting, reading, trying things out.   And that is the real wisdom in having these bodies–we can smooth out our flaws, overcome our evil tendencies by mastering our bodies–the cool features that they have that we should use appropriately in the proper time and place.
On a related note, sometimes Tony's suit malfunctions.  Pieces fall off deep in space, aliens shoot him down.  Our bodies, too, can be imperfect–physically and mentally.  But that doesn't mean that the spirit driving the operation is faulted.  And in the resurrection, everything will be made whole.