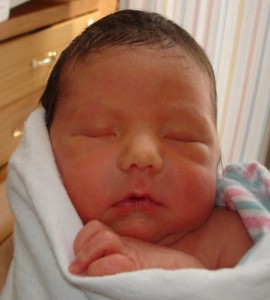 Q.What if a married couple does not want children?
Before I get into that, I'd like to reiterate a bit why Mormons do have children and the importance that is placed on the family.
As is stated in The Family: A Proclamation to the World: "We declare that God's commandment for His children to multiply and replenish the earth remains in force." I think that speaks for itself: Mormons believe that it is God's will that we have children.
Children are a blessing. They are such a source of joy. Parenting is, by no means an easy task. And when my toddlers are screaming and fighting each other while the baby's crying to be fed and dinner's on the stove and the phone is ringing, I would say that no high-powered CEO has higher stress levels! But it is a challenge with wondrously rich rewards. Children help teach us humility and selflessness. In teaching our children to come to Christ, we become more sure of our own testimonies. If you don't have children of your own, I don't think you can truly understand the profound depth of the emotion of looking into your newborn's face and seeing that first smile or hearing your sweet, innocent toddler come tell you "I love you". Seeing your children making good decisions and knowing that you're doing an okay job raising them is so fulfilling and rewarding. I have to be honest, I don't really understand why anyone wouldn't want these blessings.
However, not everyone in the world is like me. Variety truly is the spice of life and there are those who don't wish to have children. For some, it may be an issue of feeling inadequate and being intimidated by the idea of parenting. For others it may be balking at the sacrifice of time and money that raising children requires. I don't know all the reasons why but I know that children will bless your life. I know that God will help those who feel inadequate rise to the task. I would never suggest that a couple have children when they're not prepared for parenting to some degree, even if most of that preparation is simply the desire to be good parents. Remember that God can change a heart that is willing to submit to His will. He can prepare a couple for parenting and foster in them a desire to be good parents just as He can work other miracles.
A couple who doesn't want children will not be scorned in the Church. Everyone is entitled to their choices. The choice to have children and how many to have are ultimately decisions solely between the couple and God. But remember, it is God's will that we multiply and fill the earth. And those who, for selfish reasons, do not desire to have children would do well to remember the rich man who came to Christ and was told to sacrifice all his riches: Christ requires sacrifice and selflessness of those who would call themselves His followers. I would encourage couples to remember this, and pray for the Lord's direction and guidance in this personal matter. He will help you sacrifice and come to Him.
Indeed, I think that part of the blessing parenting affords is a closer relationship with the Lord as we learn to rely on His guidance and direction to bring our children up in righteousness. We also come to understand to some minute degree His position as Father of us all.