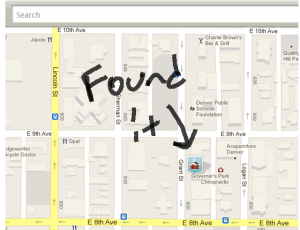 I recently moved to Denver, Colorado for my medical school rotations.  Using the internet, I was able to quickly find where the nearest church building was and what time the worship services started.  I thought I should share with you how you can also find the local Mormon church.
Go to www.mormon.org/worship
Scroll down and you can enter you address.  It will pull up a map showing where the church is in relation to your house.  It will also give the time of when worship service starts.
The webpage also has lots of information about what you can expect when you go to church for the first time.  I've copied the questions and answers that the website gave below.  Click for more.
What to Expect
What should I wear?
You're welcome to wear any modest clothes that you feel comfortable in. But just so you know, most men wear suits, sport coats and shirts and ties, and women wear dresses or skirts. Children also typically dress up.
Do I have to donate money?
No. We don't solicit donations or pass a plate.
Do I have to participate?
No. Visitors aren't required to participate in any way. You can simply sit back and enjoy the service.
Will I feel uncomfortable attending alone?
We hope not. Many of our members come to Church by themselves each week. However, if you'd like someone to attend with you for the first time, feel free to contact the missionaries or the bishop of the ward when you arrive and they'll find you a friend to sit with. It's always hard to be new, regardless of the situation, but in time you'll get to know the other members and feel more at home.
Will everyone know I'm a visitor and not a Mormon?
This probably depends on the size of the branch or congregation you're visiting. Some congregations are so large (up to 600 members) that its regular members may or may not realize you're a visitor. Others are so tiny the members all know each other and will definitely recognize and welcome a newcomer.
How long does church last?
Our primary family worship service is called sacrament meeting. It's held in our chapels on Sunday and lasts approximately one hour. You're welcome to come alone or bring your family; children are present in virtually all our congregations.
What happens during sacrament meeting?
We sing hymns (hymn books are provided). Church members say opening and closing prayers. We partake of the sacrament (communion), which consists of prepared bread and water, blessed and passed to members of the congregation by priesthood holders. And we listen to two or more speakers who are usually members of the congregation. You might be surprised that we don't have just one pastor or preacher. We do have an unpaid bishop who presides over each congregation (called a ward).
Are there any other meetings on Sunday?
Before or after sacrament meeting there are a variety of other age-appropriate meetings you and your children can attend. If you want to attend these additional meetings, ask someone for directions. If they don't know, they'll find someone who does. Visit the Meetinghouse Locator to find the beginning time of the three-hour block of meetings and the starting time of sacrament meeting.
Other Meetings on Sundays
Sunday school classes (called Primary) for children ages 3 through 11.
A nursery is available for children ages 18 months to 3 years.
Sunday school classes for teens and adults.
Young Women meetings for those 12 through 17 years of age.
Relief Society for women ages 18 and older.
Priesthood meetings for males 12 years and older.