by
Thaddeus
April 9, 2011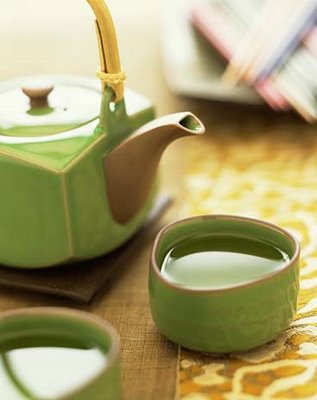 We occasionally get the following question:
Is green tea against the word of wisdom?
A simple yes or no question, right? Here are a couple more in the same vein:
Do you have a statement that has been issued by the First Presidency regarding the usage of decaffeinated green tea either as a drink or in a vitamin formula.

I'm a little confused about Green Tea. Some members say they avoid it as it is breaking the Word of Wisdom. Yet others say it is totally fine, a much healthier alternative to soda. I've seen other members drinking those popular tall green cans, including my bishop. I've wanted to ask him about it, but didn't really want to put him on the spot. I found this site and thought it a perfect opportunity to ask. What do you think?
Because this website is devoted to answering questions posed primarily by non-latter-day saints, we've generally kept ourselves out of debates that take place within the Church. For one thing, if it's an unsettled issue among Mormons, that usually means there isn't a definitive answer. We also strive to represent ourselves as "typical" Mormons, which means when we pick a side on some issue, we might be misrepresenting faithful Mormons who believe differently.
Since this is a persistent question and it pertains to the requirements for baptism, I'll do my best to clear out some of the weeds surrounding this issue, but keep in mind that the truly "perfect opportunity" to discuss it is, in fact, in counsel with your bishop.
Hot Drinks and the Word of Wisdom
The Word of Wisdom refers to the dietary restrictions the Lord revealed to Joseph Smith in D&C 89. It includes a prohibition against tobacco, "strong drinks" (alcohol), and "hot drinks," as well as recommendations for eating herbs, fruits, grains, and meat (sparingly).
Following this revelation, there was some dispute among Church members about what exactly was meant by "hot drinks." Tea? Coffee? Soup? Eventually, in 1842 Joseph Smith's brother and fellow Church leader Hyrum Smith gave a sermon and clarified the matter in this way: "And again 'hot drinks are not for the body, or belly;' there are many who wonder what this can mean; whether it refers to tea, or coffee, or not. I say it does refer to tea, and coffee."
Modern Church leaders have not offered any more definitive interpretations on which kinds of tea might be permissible. The most recent handbook just says, "The only official interpretation of "hot drinks" (D&C 89:9) in the Word of Wisdom is the statement made by early Church leaders that the term "hot drinks" means tea and coffee."
This open-endedness has led Latter-day Saints to speculate about what exactly is in tea and coffee that is harmful. Is it the caffeine? The tannic acid? The high temperature? If it is the caffeine (a common speculation), then should we also shun colas, energy drinks, and chocolate? Is decaf okay?
The First Presidency gave a statement on cola in 1973, "With reference to cola drinks, the Church has never officially taken a position on this matter, but the leaders of the Church have advised, and we do now specifically advise, against the use of any drink containing harmful habit-forming drugs under circumstances that would result in acquiring the habit. Any beverage that contains ingredients harmful to the body should be avoided."
Why it Matters
Latter-day Saints know that typically, where there is no specific direction on a given subject, we are left to our own judgment, guided by principles instead of rigid rules. This idea can be seen in the cola policy above; it's not about setting and enforcing unyielding boundaries, but keeping ourselves un-addicted and healthy.
This would normally be a non-issue, then. Each member has access to personal revelation through the gift of the Holy Ghost and to scriptural principles that would guide them to a self-imposed standard that may legitimately vary from person to person.
But tea is not an entirely personal decision. In preparing to be baptized or to enter the temple, a priesthood leader interviews you for worthiness. One of the questions is about your understanding of the Word of Wisdom and whether you are living by it. A wrong answer could keep you from baptism or temple worship or perhaps make a liar out of you. Additionally, depending on your location, green tea may be a huge part of your culture and a cherished tradition. Abstaining could have significant ramifications on personal and business relationships. It is a pivotal decision for some, and wondering about green tea isn't necessarily just "straining at a gnat," as those who dismiss the question might uncharitably assume.
Our task, then, is to discover for ourselves a personal rubric for tea-selection, which must be in line with Church guidelines (note: there maybe more than one rubric that is acceptable, there are definitely many that are unacceptable, and we are not charged with creating a rubric for all members). Developing our rubric involves getting educated: learn what makes tea tea, read this article, study other relevant materials. It also involves searching for eternal principles upon which to build your decision, which can be found in scriptures and conference talks and in personal prayer.
The Practice
In the absence of authoritative direction, I thought I would try to see what Latter-day Saints actually do and learn about their guiding motivations for their tea selections. I created a survey, and asked a sample of 86 people who ran across this site or who are my friends on Facebook to take it (we can therefore extrapolate these findings to the general population of people who frequent this site or who are my friends on Facebook).
I listed as many different kinds of tea as I could think of (with the help of Wikipedia). Here are a few of the statistics. The following were asked of latter-day saints: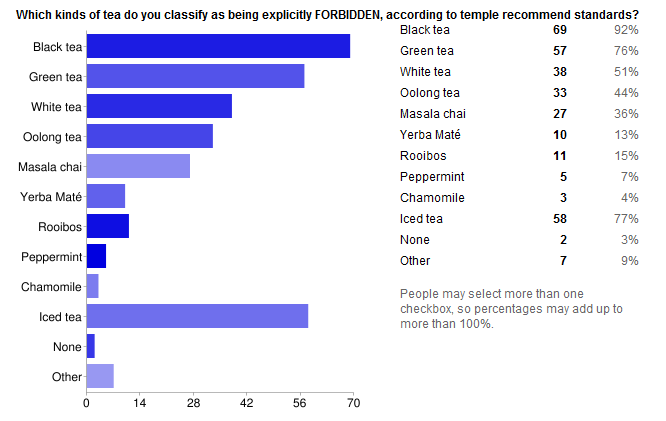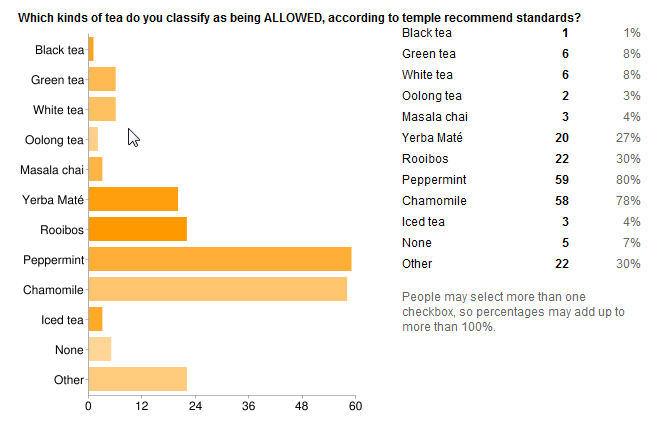 The first chart shows those teas that Church members believe to be prohibited for temple worthiness, the second chart shows teas that are believed to be expressly permitted. The clear front-runners to avoid are black, green, and iced teas, while peppermint and chamomile rank pretty high on the allowed list. The lesser-known ones (white, oolong, masala chai, yerba maté, rooibos) were a mixed bag, probably just because they are less familiar. Many surveyees added the write-in candidate "herbal tea" as a permitted type, which actually includes peppermint and chamomile (I couldn't include all herbal teas in my list because there are infinitely many).
Exactly half of the members I surveyed were returned full-time proselyting missionaries. Missionaries have the unique responsibility of ushering converts into the church and they probably deal with this question of tea-types more regularly than any bishop or stake president. I asked them which types of tea they taught their converts they needed to avoid and which were allowed: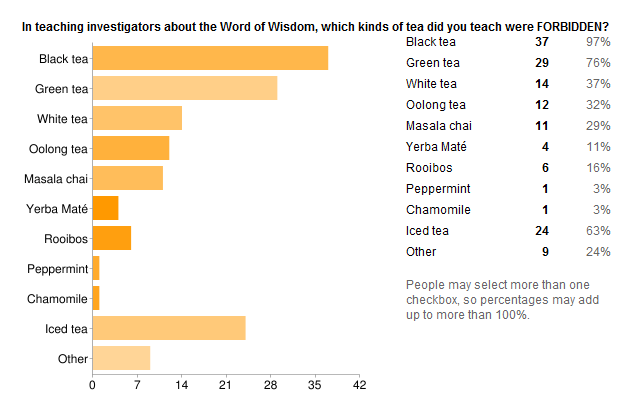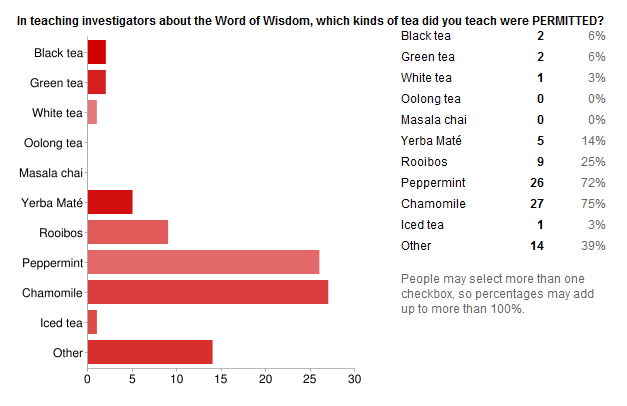 Basically, the same trends as before, but these answers look a little more confident.
Next, I asked how much allure tea had for them:

This is the sentiment that (in my experience) most Mormons have about tea. They just don't give it much thought. It isn't on their radar.
I also asked the ten non-Mormons who took the quiz a few questions. The sample size isn't large enough to draw many conclusions, but I'll post the results here for your interest.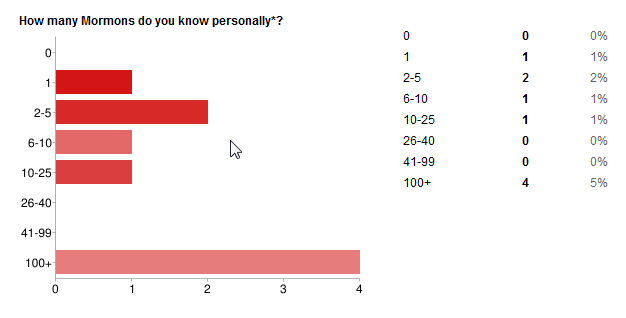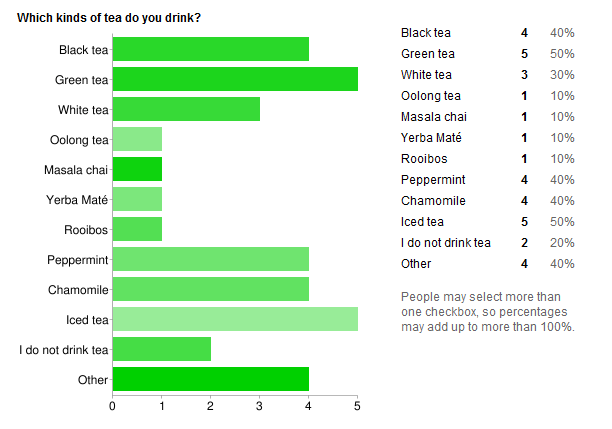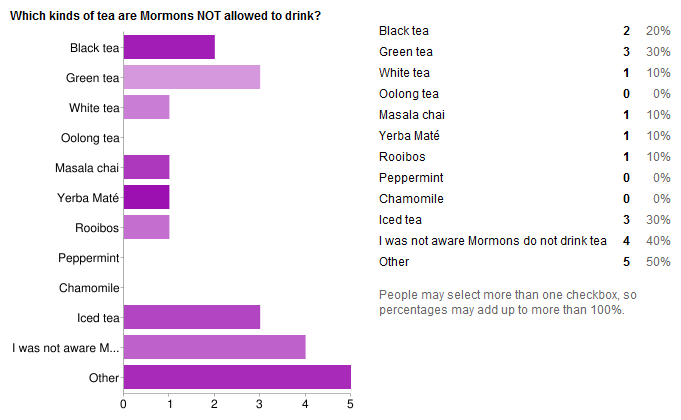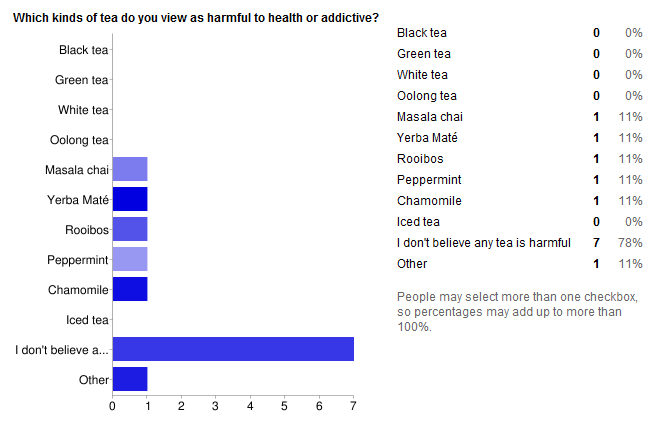 I also asked members what their guiding philosophy was for selecting the tea that they did. This is where the real insight came. Since this was an essay question, I extracted the basic gist of their reason and categorized them into the following groups: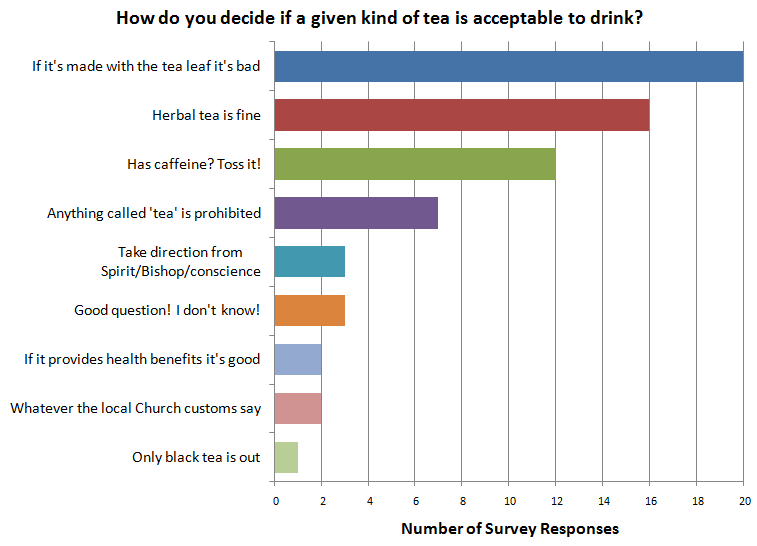 One thing you might notice from this is that the first two categories (made from the tea leaf and herbal tea) essentially draw the same line in the sand. Of the teas I listed in my survey, black, green, white, oolong, and iced teas are made with the leaf of the tea plant (Camellia sinensis). All the rest are "herbal teas," according to Wikipedia's (somewhat limey) definition: "A herbal tea, tisane, or ptisan is a herbal or plant infusion and usually not made from the leaves of the tea bush. Typically, herbal tea is simply the combination of boiling water and dried fruits, flowers or herbs."
I got a lot of good, thoughtful responses for this question. I'll provide a few of them here.
Jethro: "I am not very critical about it, I guess. I generally stay away from hot teas, and ice teas unless they are prepared by a trusted (usually Mormon) lady, who usually accompanies the tea with some kind of reassuring "here, this will make you feel better"."

Steve: "I just don't drink tea.  I even avoid wearing tea-shirts.
"I did some searching on LDS.org for green tea and I only found one article from 1985ish.  It was a story of some missionaries in Japan looking for an apartment to rent.  Spoiler Alert:  They found one."

Anonymous: "I was told once by someone or other that tea is only forbidden if it's made with tea leaves; herbal teas and the like are fine. However, this came from a layperson, not from anyone in authority, and trying to pinpoint the forbidden ingredient in tea seems rather like the stance some people take that because coffee has caffeine, caffeine must be forbidden in all its forms. It's entirely possible that this is true, of course, but the fact is that we simply don't know. So for me, I drink herbal tea very occasionally when someone else is offering it, when it's an innocuous-seeming variety like blueberry, and when it would be rude to refuse, but that's all. My refusal is made easier by the fact that I do not like the taste of any tea I have tried.
"From what I have seen of other people's tea drinking habits, I'd say a fair number also draw the line between herbal tea and tea tea. I don't think that any type of tea has been explicitly allowed."

Orpha: "It must be an herbal 'tea,' (which is not actually a tea), which means it will be caffeine-FREE, ingredients clearly listed. I drink herbal tea occasionally, sometimes in spurts, but especially to soothe a sore throat, help clear congestion, or to help me warm up after being outside in the cold."

Nefi: "If the tea is herbal it is ok.  'Herbal' means if it has a cute teddy bear in pajamas and it says something like 'sleepy time' on the box then it is ok. If I have not heard of the name or it sounds oriental with kanji on the box and no cute pictures then it is not ok."

Willie: "I can't claim to know which sort of tea is acceptable or not according to the standards.  I have never read the standards.
"As for me, I just stay away from all teas and then I'm sure that I'll be just fine.  I've been healthy enough this far into my life that drinking tea for any 'health benefits' isn't going to sell me on it either."

Andrew: "I try to follow the promptings of the Spirit. If the tea makes me feel uncomfortable, then I don't drink it. When I was in Japan I drank a tea that a member said was okay to drink and it felt wrong to me. I took a look at the ingredients and one of them was Green Tea powder, so I stopped drinking it. Following the Spirit has always served me well."
It was interesting to see the variety of opinions on this, as well as the emergent themes. None of these opinions are authoritative, and they each spoke only for the bar they set for themselves, not what they would impose on the whole Church.
I can't draw any firm conclusions from this data on how to construct your rubric. As one respondent put it, "popular opinion does not a standard make." Still, I think it is a good idea to take inventory of this issue once in awhile, and it would be good to use the data in drawing your own personal conclusions.
The Principles
As I mentioned earlier, in the absence of specific proscriptions, we must learn all we can about the issue and be guided by principles instead of governed by rules. Here is a short list of some principles to keep in mind when selecting which teas to avoid and which to accept:
Avoid addiction. This isn't just a good idea, it's fundamental to the purpose of life. We cannot hope to overcome the tests of life if we have already sacrificed our free will to some unholy Mammon. Bear in mind also, that the addict rarely recognizes his own addiction.
Health. This is one of the promised blessings for those who obey the Word of Wisdom, and as I quoted the First Presidency saying earlier, "Any beverage that contains ingredients harmful to the body should be avoided."
Covenant. Another of the blessings promised is that the "destroying angel will pass by them and not slay them" (D&C 89:21). This is a reference to the first passover in Egypt when the Israelites publicly displayed their covenant status and their faith in Jehovah by painting their door posts with lambs' blood; then the destroyer "passed over" them (Exodus 12:23). Maybe, like painting your house with blood, certain tea restrictions don't make intuitive sense. And maybe there is something grander at work here.
Obedience. The Lord is more interested in seeing our willingness to follow Him than in seeing how smart we think we are (2 Nephi 9:28-29).
Sustaining local leaders. If you are concerned about where to draw the line, talk to your bishop about it at your next temple recommend interview. He is a judge in Israel and his judgment is authoritative. Follow his counsel.
Unity in Zion. Be careful making yourself the exception. Remember that there are thousands of Japanese converts who took a leap of faith by abandoning a cherished cultural practice (and identity) to qualify for baptism. "For if ye are not equal in earthly things ye cannot be equal in obtaining heavenly things" (D&C 78:6).
Personal revelation. If you have been baptized and confirmed, you have the gift of the Holy Ghost who "shall teach you all things, and bring all things to your remembrance" (John 14:26). Live up to your privilege and ask for revelation!
The great thing about principles is that they are widely applicable! This means you can also use these and other principles to help you in deciding what kinds of restaurants to eat at, clothing to wear, whom to vote for, and what to do with your free time. The Lord has withheld specifying rules in many cases so that we can learn to identify and adopt principles, thus becoming our own governors — becoming free. It also helps us draw closer to Him in prayer, knowing we need His personal guidance; we can't just flip open the code book and have every eventuality spelled out for us.